I bought a new iPhone and wanted to reinstall the app on my new iPhone from the iCloud backup.
The following error message appears "The app is no longer available in the App Store".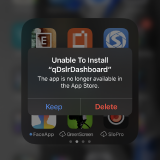 You can't reinstall the app by
https://support.apple.com/en-ca/HT201272
.
The app is totally gone and out of the app store (forever)?